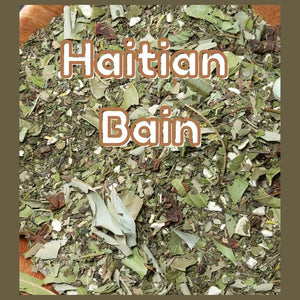 Ce bain est un baume pour le corps des mamans. Il favorise l'effet calmant pour les tissus du périnée, réduit l'inflammation, il permet de ralentir les saignements et il contribue à soutenir de manière favorable un apaisement des hémorroïdes et des déchirures. Il est recommandé de faire le bain lorsque les saignements diminuent considérablement. Il est important d'écouter son corps car chaque femme est différente. 
Ce mix de feuilles peut être aussi utilisée pour les femmes en difficulté de fertilité ou encore les femmes qui ont des règles abondantes et/ou douloureuses. Il est recommandé de faire les bains de siège (aussi appelé Yoni Steam) les 2 dernières journées des règles.
Composition:
Feuilles séchées en provenance d'Haïti: Ti Bomb, maskréti, pois congo, papaye, trompette, orange, mango, eucalyptus, corossol
**This product is not intended to diagnose, treat, cure or prevent disease and has not been evaluated by Health Canada.