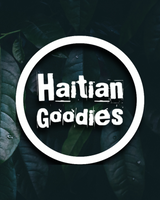 OUR MISSION
At Haitian Goodies, we are ambassadors of our Haitian heritage. Our mission is to preserve our culture by supplying you with your favourite Haitian Goodies.

We also believe in the healing power of nature, which is why we offer over 50 different types of dry leaves! Located in Canada, we offer cost effective international shipping and local pick up in Montreal!
Notre Mission
La culture haïtienne est notre héritage. Notre mission a pour but de préserver cette culture en rendant disponible et en vous fournissant vos "goodies'  haïtiens préférés! Nous sommes situés à Montréal et nous offrons un service de ramassage extérieur gratuit à Montréal ou l'envoi postal!
MINIMUM PURCHASE OF 20$ CAD (before shipping)
ACHAT MINIMUM DE 20$ (avant les frais d'envoi)